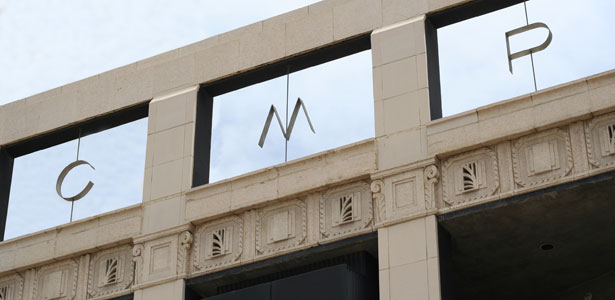 UCR/California Museum of Photography, a facility of ARTSblock, provides a cultural presence, educational resource, community center and intellectual meeting ground for the university and the general public. The museum's explorations of photographic media through exhibition, collection, publication, and the web examine the history of photography and showcase current practice in photography and related media. To serve an audience that is multicultural, young and old, general and specialized, the museum presents programs that recognize the variety and complexity of cultural experience and explore the relationship between traditional expression and contemporary practice. The museum is vitally concerned with the intersection of photography, new imaging media, and society. Located off campus in downtown Riverside, UCR/CMP is committed to bringing the most challenging art to the widest possible audience.
UCR students from across the university are involved in every aspect of the museum's program from curatorial research through collections management to exhibition installation and administration. CMP and the other ARTSblock's entities offer many opportunities for professional museum work and students are involved under the aegis of independent course status, internships, work-study, and as volunteers. Still other students utilize CMP as a library-like resource or as a site for art production and experimentation.
In December 2012, ARTSblock Executive Director Jonathan Green was pleased to announce the appointment of Joanna Szupinska-Myers as the new Curator of Exhibitions at the California Museum of Photography. Her appointment begins in January 2013. Joanna Szupinska-Myers is a curator and writer interested in contemporary art, the history of exhibitions, and the nature of collections. In 2011-12 she held the position of Marjorie Susman Curatorial Fellow at the Museum of Contemporary Art Chicago, where she curated three exhibitions: Skyscraper: Art and Architecture Against Gravity, a large-scale group show co-curated with Chief Curator Michael Darling; First 50, a linear presentation of the first fifty objects that entered the museum's permanent collection; and MCA DNA: Gordon Matta-Clark, a show centering on Matta-Clark's photocollages of his final building cut project Circus or The Caribbean Orange (1978). As an editor and writer Joanna has contributed to several publications, most recently authoring an essay titled "From Kunsthalle to Factory" which will appear in the forthcoming exhibition catalogue Construction in Process: The Community that Came (Muzeum Sztuki, Lodz, 2012). Together with Julian Myers she also works on various projects under the joint title grupa o.k. Joanna earned her MA in Curatorial Practice in 2010 at the California College of the Arts, San Francisco, and her BA in Art in 2004 at the University of California, Los Angeles, where she focused on photography as her primary course of study.
You have reached this page during a time of renovation and reconstruction of the web site. Some of the older links may continue to work during this time but are not guaranteed. If you need more detailed information regarding the CMP collections please contact the Curator of Collections